It takes a special kind of person to answer the call to serve their country. It's a vocation that requires bravery, perseverance and above all, faith. Christopher Marmolejo has all three. His military honors include the Army Meritorious Unit Commendation, the National Defense Service Medal, the Military Outstanding Volunteer Service Medal and more than a dozen more. If you ask him to describe himself in one sentence, Marmolejo has his answer down – "a husband, a father, a retired U.S. Army combat veteran and an advocate for people without a voice."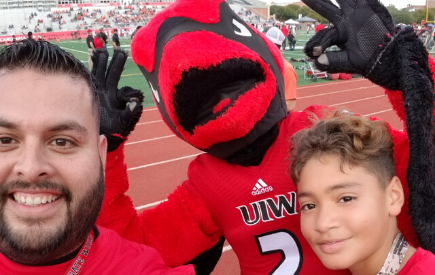 Marmolejo is gearing up to graduate from UIW this month with a Bachelor of Science in Public Administration. He's loved his UIW experience so much, he plans to continue his education as a Cardinal this summer, when he will begin studying for a master's degree in Organizational Pyschology at the UIW School of Professional Studies. Despite juggling school and family life (Marmolejo is also a devoted husband and father), he managed to also stay heavily involved in campus life through various positions and organizations.
"In addition to being a remarkable staff assistant for Student Disability Services, Chris is a celebrated veteran of the United States Army, bringing many achievements to his position as the president of the Student Veterans of America UIW Chapter," explained Michelle Beasley, manager of Student Disability Services. "Chris absolutely loves UIW and is always looking for ways to help others every single day."
It's true. Marmolejor ecognizes that he's not a traditional, four-year student. He got started on his education journey a little later, after starting a family, but with a lot more life experience under his belt. He made it his mission to help other students who may be starting out the way he did. In fact, he credits his experience in the Army for impacting his time at UIW. When asked how his time in the armed forces influenced him as a student, he explained that he brought the Warrior Ethos into student life.
"'I will always place the mission first,' meaning I will do whatever it takes to graduate. 'I will never accept defeat,' meaning I will not let any assignment, quiz or exam get the best of me. 'I will never quit,' meaning regardless how stressful things got in school, I would keep moving forward. 'I will never leave a fallen comrade,' meaning, if one of my fellow students or student veterans needed help, I would provide that assistance, mentorship or peer-to-peer interaction needed," Marmolejo explained.
Still, while he credits his experience in the Army for helping him becoming the disciplined, committed student who made it to this point, Marmolejo knows that he also has many people to thank.
"I could not go without giving credit where credit is due," he explained. "Thank you, Dr. Philip Cortez, Mr. Moises Torrescano, Mr. Jonathan Lovejoy, Ms. Adriana Leal, Mrs. Natalie Ayala and Mr. Luis Atienzo for all your help, support and guidance. Several people have made big impacts on me, but the biggest would be Ms. Beasley. Whether I had good days, bad days or just a different type of day, she was always there. She would always follow up, not only making sure I was good, but also checking in on my family."
Of course, of the many people Marmolejo credits for helping him reach this moment, it's family for whom he is most thankful for. "I live by the saying, 'behind every successful man stands a strong woman,'" he said of his wife. "There is nothing I could have done or accomplished without her by my side."
As Marmolejo prepares for the next part of his journey, he encourages other non-traditional students to persevere and to always remember, "it's not how you start – it's how you finish."